A New Blog Series Where I Write Short Book Reviews. Inspired By Everything Everything By Nicola Yoon.
Title: Harry Potter and the Philosopher's Stone (Harry Potter #1)
Genre: Fantasy - Middle Grade
Publication Date: 26 June 1997
When a letter arrives for unhappy but ordinary Harry Potter, a decade-old secret is revealed to him that apparently he's the last to know. His parents were wizards, killed by a Dark Lord's curse when Harry was just a baby, and which he somehow survived. Leaving his unsympathetic aunt and uncle for Hogwarts, a wizarding school brimming with ghosts and enchantments, Harry stumbles upon a sinister mystery when he finds a three-headed dog guarding a room on the third floor. Then he hears of a missing stone with astonishing powers which could be valuable, dangerous – or both. An incredible adventure is about to begin!
The reason I just started reading this series was because I was very intimidated by it and thought there were going to be a lot of world building.But I was wrong ! how I wish I had read it sooner ! the book was very easy to read and I really enjoyed it a lot and can't wait to continue reading the series.I felt as if the first book just played the base for the other books but it is however was very enjoyable and I can see now why everyone likes the series.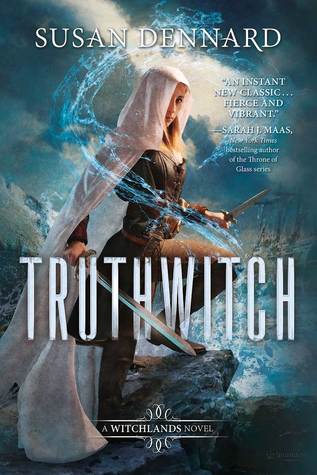 Genre: Fantasy - Young Adult
Publication Date: 5 January 2016
In a continent on the edge of war, two witches hold its fate in their hands.
Young witches Safiya and Iseult have a habit of finding trouble. After clashing with a powerful Guildmaster and his ruthless Bloodwitch bodyguard, the friends are forced to flee their home.
Safi must avoid capture at all costs as she's a rare Truthwitch, able to discern truth from lies. Many would kill for her magic, so Safi must keep it hidden - lest she be used in the struggle between empires. And Iseult's true powers are hidden even from herself.
I was looking forward to this a lot because this was a very hyped book but I guess this was one of the overhyped books, the book was okay but definitely overhyped.More than half of the book was just about world building which is one of the reasons I don't read high fantasy. The thing I loved in this book was the friendships, they're a rare thing to see in fantasy books because most friendships ends in betrayal of some sort and I really liked this one.