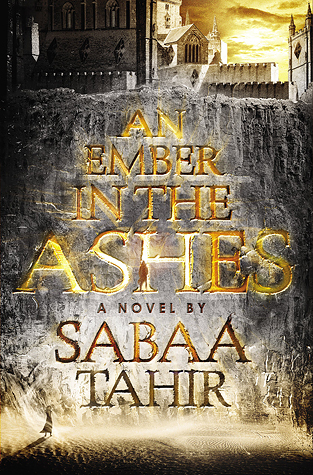 Title: An Ember In The Ashes
Author: Sabaa Tahir
Language: English
Genre: Fantasy - Young Adult
Publication Date: 28 April 2015
5/5
Laia is a slave.

Elias is a soldier.

Neither is free.
Under the Martial Empire, defiance is met with death. Those who do not vow their blood and bodies to the Emperor risk the execution of their loved ones and the destruction of all they hold dear.
It is in this brutal world, inspired by ancient Rome, that Laia lives with her grandparents and older brother. The family ekes out an existence in the Empire's impoverished backstreets. They do not challenge the Empire. They've seen what happens to those who do.
But when Laia's brother is arrested for treason, Laia is forced to make a decision. In exchange for help from rebels who promise to rescue her brother, she will risk her life to spy for them from within the Empire's greatest military academy.
There, Laia meets Elias, the school's finest soldier—and secretly, its most unwilling. Elias wants only to be free of the tyranny he's being trained to enforce. He and Laia will soon realize that their destinies are intertwined—and that their choices will change the fate of the Empire itself.
"The field of battle is my temple. The swordpoint is my priest. The dance of death is my prayer. The killing blow is my release."
I devoured this book, I can't believe I just decided to read it, it's been sitting on my bookshelf for months now, and I only just picked it up because the second book release date was getting closer. I WISH I had picked it up sooner because I loved every minute of it and loved it as soon as I began reading it. I finished this book in only 1 day despite it being 464 pages long. The plot, the character development and the writing everything were extremely good.
"There are two kinds of guilt: the kind that
drowns you until you're useless, and the kind that fires your soul to purpose."
I can see why some people might not like Laia but for me, I loved her from the start. Laia is a Scholar, living under the control of the empire, but when her brother is arrested, she joins the Resistance in hope of freeing her brother and she through excellent character development. Elias is a Senior at the black cliff academy and a top student, who wants to escape from the empire and be free. The chapters alternate between the two and I immediately became wrapped up in their stories.