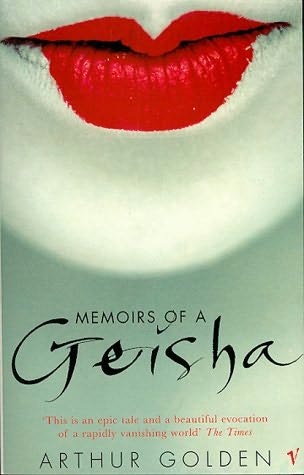 Title: Memoirs Of A Geisha
Author: Arthur Golden
Language: English
Genre: Historical Novel
Series: Stand Alone
Publisher: Alfred A Knopf
Publication Date: 27 September 1997
Pages: 448p
A literary sensation and runaway bestseller, this brilliant debut novel presents with seamless authenticity and exquisite lyricism the true confessions of one of Japan's most celebrated geisha.
In
Memoirs of a Geisha
, we enter a world where appearances are paramount; where a girl's virginity is auctioned to the highest bidder; where women are trained to beguile the most powerful men; and where love is scorned as illusion. It is a unique and triumphant work of fiction - at once romantic, erotic, suspenseful - and completely unforgettable.
I wasn't really excited over this when I first bought it since I didn't exactly plan to buy it, I am so glad I bought it Its now one of my favourite. Since I read it a long time ago I can't remember my thoughts on it exactly.
When I read the first few chapters-2 or 3 chapters- I hated it, I thought maybe I will put it down and start reading another book, then come back to this, but then one of my classmates saw me reading it and she said it was really good and told me to keep reading it, saying it gets better and it did get better so much better actually everything from the story to the characters was perfect. Arthur Golden writing is legendary to be able to create this book and from a female point of view.
I really liked Chiyo/Sayuri Character but I really hate it when she speaks with Nobu Its make her a really stupid person for some reason. Sometimes you think the character is not important as you thought I really thought The Chairman would be just a stranger passing by but it was totally the opposite, I thought Dr. Crab would be there until the end of the book but he is not. The character is understandable and not one of them is unrealistic. and I really hopped to know what had become of Satsu-Chiyo sister-.
The book is kind of a long-paced read so it will take you more than one sitting maybe to finish it, but I really felt sad when the book ended, I couldn't believe it and it was just so good that I didn't even start a book until two days later and I still kept thinking about.